What is Philanthropy?
Philanthropy is giving of your time, talents and treasures for the common good. Here at Rady Children's, philanthropy is used to help sick and injured kids. We count on philanthropy to provide important services, programs and equipment, and to ensure that every child gets the care he or she needs. Watch our video to see how kids define philanthropy.
What Can You Do?
You can make a difference in a child's life by getting involved – and there are so many fun ways to help.
Get Your School Involved
Penny wars
Dance marathon
Walk-a-thon, Hoop-a-thon, Read-a-thon
Craft fair
High School Senior service project
Donate proceeds from ticket sales/opportunity drawing/food sales from a show or event (talent show, American Idol event, karaoke event).
Plan a Fundraiser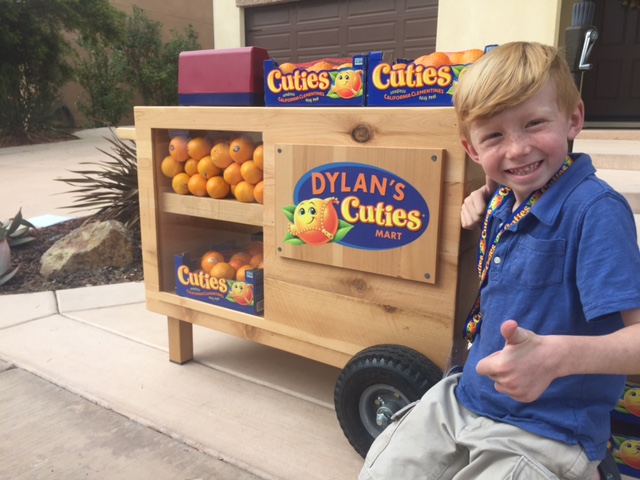 Lemonade stand – real or virtual
Bake sale – real or virtual
Rummage sale – get your family or even your neighborhood involved.
Sell hand-made jewelry or personal artwork.
Sell homemade items at a Farmers market.
Donate your birthday. Our online tools make it super easy!
Become a Junior Miracle Maker
If you raise $500 or more, you can become a Junior Miracle Maker and enjoy some really cool benefits.
Join our Dream Big Walk
Your family can create a walk team and recruit friends to join you at this fun, family-friendly event.
More Ways
Save a portion of your allowance each week.
Offer your services – babysitting, pet sitting, washing cars, mowing lawns – and donate a portion of your earnings.
Recycle – collect cans, bottles and other recyclable items and donate the funds to Rady Children's.
---
We're here to help you help kids. Contact us any time with questions at 858-966-7878 or fundraise@rchsd.org.